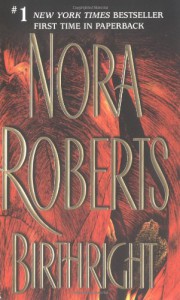 Again I must give Nora Roberts two tumbs up for her themes entwined with a main and secondary romance. It all begins with an emotion rife prologue when baby Jessie is kidnapped from the stroller. Fast forward a couple of decades and in a small town at a construction site a skull is found. As it turns out it is a Neolithic village. Not only does the babynapping contributes to a suspense-laden storythread the archeology gives it a fresh twist I haven't read much before. I love archeology and the information within the story feels like the author researched the topic and gave it a realistic vibe.
What tugged on my emotional strings so very much is the multiple views of how characters were affected by the kidnapping of baby Jessie. Callie Dunbrook is at the epicenter of it all as archeologist and the grown up version of baby Jessie. She is stubborn to a fault, passionate about her work, methodical and has a vivid personality that jumps off the pages. The conflict of nature vs nurture brings lots of questions to the forfront but also encounters that just made me cry. The emotions, from all parties concerned (fathers, mothers, brother etc) are so recognizable. One mother loses a baby so another can have a baby. Love is all around and still it hurts. Nora Roberts created such lifelike characters with strengths and weaknesses that once again, I was drawn in to the story and couldn't srop reading until I read their HEA.
Because the romance was about one very fierce anthropologist named Jacob Graystone, ex-husband of Callie and more then ready to rekindle the fire of their romance. I loved the quick verbal jabs, the stuborness of them both and how quickly they can push each others buttons. There was a maelstrom of emotions humming between Callie and Jacob and I enjoyed myself reading their verbal clashes.
As always the supporting cast is excellent. Lana Campbell and Doug Callihan form the secondary romance and are very close to the main couple. I personally held a very soft spot for Digger, ugle as hell but a personality I fell head over heels for. There was a rich supporting cast all with interconnected relationships that made a flowing whole of the various story threads.
There was romance, there was drama, there was mystery and murder. The topics were refreshing, the characters flamboyant and the dialogues dynamic and full of emotion. I just couldn't get enough of Birthright!
4.5 stars